2005년 8월에 귀 이식수술이 진행될 것이라면서, 이식 이후 자신의 신체가 어떻게 달라지는를 설명하면서 '씨익~'웃음을 내 비추어 주었던 작가 스텔락의 얼굴을 회상해 봅니다.
제가 지난 번 라이브에서도 소개 해 드렸던 영국 리버풀에 위치한 미디어아트센터 FACT에서 sk-interfaces라는 제목의 전시를 통해 한국에도 널리 알려져 있는 스텔락, 오를랑(성형 수술프로젝트로 유명한)을 비롯한 국제작가 15명을 다음달 1일 부터 소개한다고 합니다.
제가 영국에 있을 때 이런 전시가 있었다면 좋았을텐데..하는 아쉬움으로 전시정보 올립니다.
전시정보는 다음과 같습니다.


01 February – 30 March
Gallery 1& 2, Media Lounge and public spaces at FACT
Free entry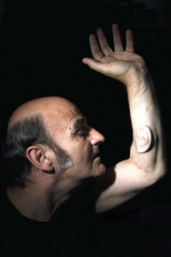 "Pioneer" Stelarc confirms involvement in sk-interfaces
Australian based performance artist, Stelarc, who this year unveiled the third ear grafted onto his forearm, has confirmed his involvement in
sk-interfaces
, FACT's first major exhibition of 2008 launching
Human Futures
.
sk-interfaces
, curated by Jens Hauser, will explore the work of over 15 international artists who use skin as a material for art. Many of the works have never been seen in the UK before. ORLAN will unveil a new piece,
The Harlequin Coat
, which is an organic patchwork with skin cells cultivated in vitro from various cultures and species. "ORLAN's live installation caricatures the logic of racist theories that sought to explain skin colour physiologically and 'scientifically water-tight' as 'filth' or 'pollutants' that supposedly settled in the bodies of 'blacks'" says curator Jens Hauser.
Tissue Culture and Art Project, Oron Catts and Ionat Zurr, will demonstrate the possibility of wearing leather without killing an animal.
Victimless Leather
is grown out of co-cultures immortalised cell lines, which form a living layer of tissue supported by a bio-degradeable polymer matrix in the form of a miniature stitch-less coat. Catts and Zurr are founders of the award-winning art and science collaborative research lab, SymbioticA, Golden Nica winners at 2007's Ars Electronica.
Stelarc will show documentation of the process of
EXTRA EAR
or
EAR ON ARM
, which involved a third ear being grafted onto his forearm, using cartilage from his chest cavity (see right). The performance artist underwent months of surgery undergone with the help of Tissue Culture and Art.
Mike Stubbs, Director and CEO of FACT, says, "From his earliest self experiments with his own body through to his performances using robotics and the internet, Stelarc can only be described as the leading artist pioneer investigating the relationships between technology and the body, though often DIY in approach and way ahead of his time, this has seeded a whole body of scientific and social research".
Full list of artists and works in
sk-interfaces
Art Orienté objet (France)
Cultures de peaux d'artistes, Roadkill Coat
Critical Art Ensemble (US)
Immolation
Eduardo Kac (Brazil)
Telepresence Garment
Jill Scott (Australia)
E-Skin
Julia Reodica (USA)
hymNext Designer Hymen Series
Jun Takita (Japan)
Light, only light
Maurice Benayoun (France)
World Skin
Neal White (UK)
Truth Serum
Olivier Goulet (France)
Skin Bags, Skin Flags
ORLAN (France)
Manteau d'Arlequin/ Harlequin Coat
STELARC (Cyprus) Documentation of
EXTRA EAR: EAR ON ARM
Tissue Culture and Art Project (Oron Catts and Ionat Zurr) (Australia)
Victimless Leather
Wim Delvoye (Belgium)
Sybille
Yann Marussich (Switzerland)
Bleu Remix
(performance)
Zane Berzina (Latvia)
Touch Me Wall
Zbigniew Oksiuta (Poland)
Breeding Spaces

For further information on
sk-interfaces
click here